cough, sneeze, sputter, cough... ahem... Wow is it dusty in here. The abudance of cobwebs is a good indicator of how long it's been since I was on LJ, but hey, it's Halloween so I'll leave them for one more day.

After a hectic and difficult few months I am feeling motivated and ready to re-enter the wonderful world of writing. It's amazing how a little thing like losing faith in people and witnessing longtime relationships crumble due to complete selfishness and lack of communication can really hinder ones creative process. Talk about going into a funk. I was nearly back to the early 70's I was feeling so funky. But hey, the drama is over and it's not my problem anyway. Looking back, I have some great characters to write about. So thanks to all the dance divas, drama queens and downright demons out there. LOL If any of you are reading this you know who I'm talking about so don't be surprised when a character in my book seems all too familiar.
Anyway, it's almost November and you know what that means? Exactly! It's NaNoWriMo 2008. Hmmm.... Now what to write 50k words or more about.......

I'll be back tomorrow to clean up this mess. In the meantime, Happy Halloween!
Current Mood:

amused
Even bigger news- and I can post this now since the winners were officially announced- is that my friend and critique group buddy Roxanne won the Highlights contest. What a week for our group!!!!! I'm so proud of her but then again I knew she was a huge talent when I first met her.
I hope we both keep up the momentum as we start subbing our work to publishers, although I won't feel like a real writer until I have a nice collection of rejection letters.
I can't believe I haven't written a blog about this until now. I got the news last week that I'm a finalist in not one, but both of the categories I entered in the South Florida Writers Network contest. I submitted a a picture book manuscript and a poem right before the deadline and then forgot about it. What a surprise when the email came in last Friday. The winners will be announced at an awards ceremony on the 21st. Being so new to the children's writing industry, I feel like I already won just being a finalist in both categories. I still can't believe it. I keep reading the email over to make sure it's real and that I'm not seeing double where my name is listed twice for the different categories.
Current Mood:

ecstatic
So here it is, a brief recap of my first Poconos retreat...
First of all I was so happy to be out of South Florida and in the mountains. The grounds were beautiful and reminded me of where we spend part of the summer in Vermont.
One of my favorite things was meeting people I had only previously known online. After two years of being writing group members and ICL students together, I finally met my friend Roxanne. We got along great as roomies. It was fun meeting so many blueboarders too. We all drew blue borders around our nametags and had special stickers thanks to Gail K.
I met Jeanne who had been at the New York conference where she met my friend and writing buddy Karen. Karen wanted Jeanne and I to be sure to meet in the Poconos. We did and even took a photo waving to Karen.
I enjoyed doing critiques for and recieved very helpful critiques from my super critiqueathon group. The workshops I attended with editors from Simon & Schuster and Delacorte Press were interesting and informative, discussing character development, query letters and story seeds.
The author talks were very entertaining and inspiring. Jordan Sonnenblick could be a stand up comic if the whole successful author thing happens to dry up. Not likely though with his talent.
I came home with lots of books. I have such a weakness for signed works of fiction. Thank goodness I left some extra space in my suitcase.
Everyone was so friendly and welcoming. I hope to be able to attend the 2009 retreat. A big thank you to the SCBWI Eastern PA chapter for putting on such a fabulous conference.
Here are a few photos to bore you with...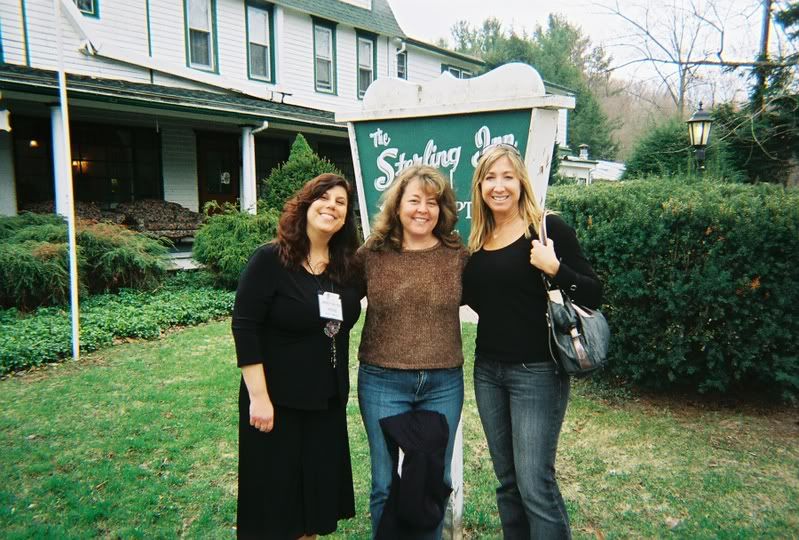 mindyalyse
Leslie (new PB author extraordinaire) and me in front of the Sterling Inn.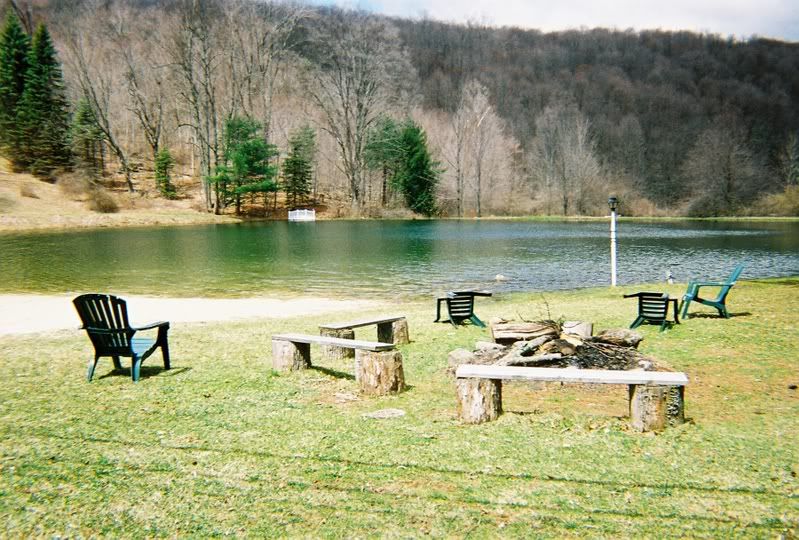 Beautiful grounds.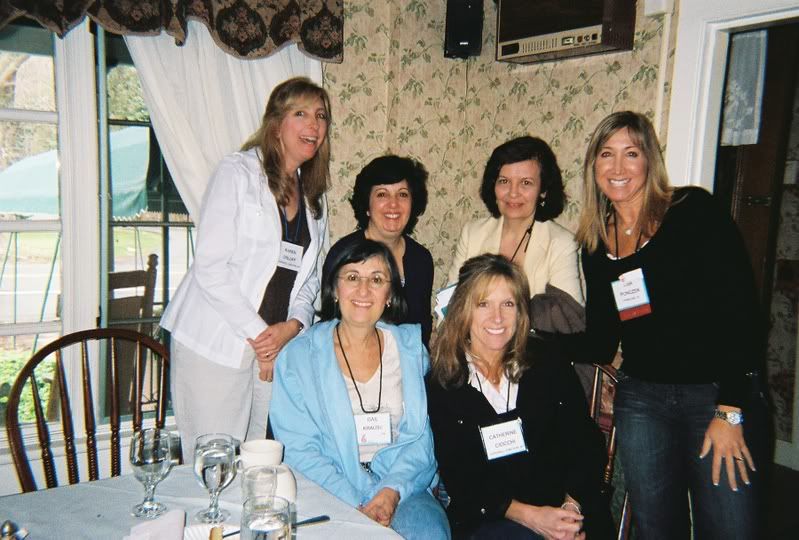 My friend Roxanne (to my right) with her in person Poughkeepsie writing group.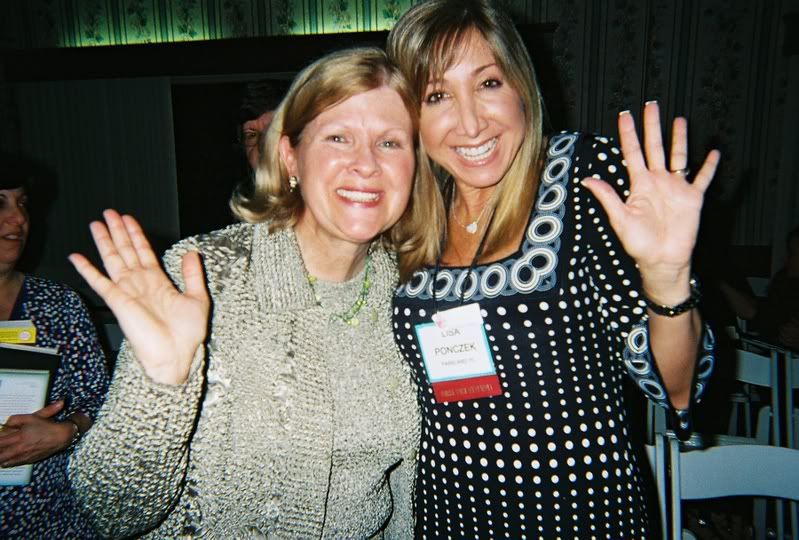 Me and Jeanne waving to Karen.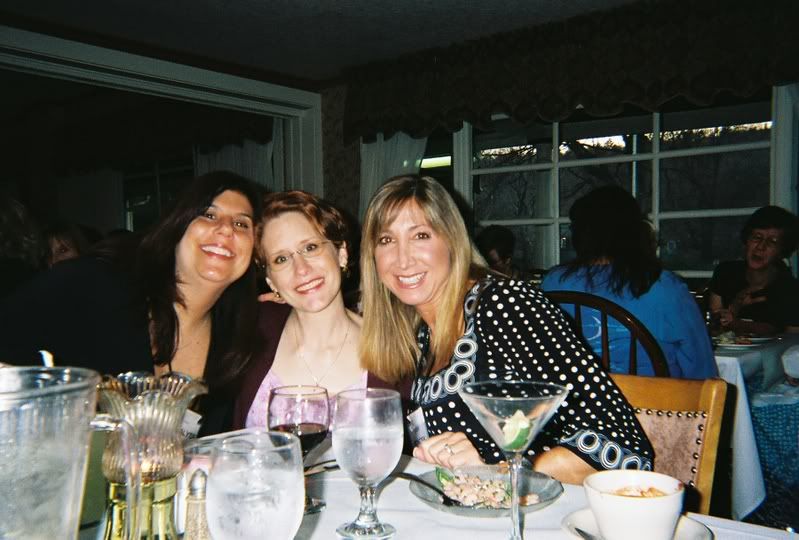 Me and Mindy with Mary Ann
that_ghost_girl
who's stories of growing up with a ghost in her home mesmerized me!
Roxanne and I on our hike.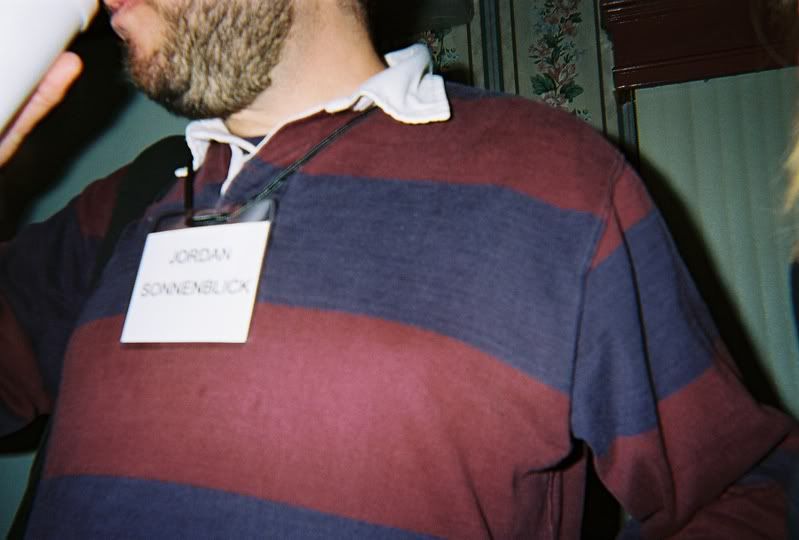 Oops the camera went off by accident but I got a shot of J. S's nametag. :-)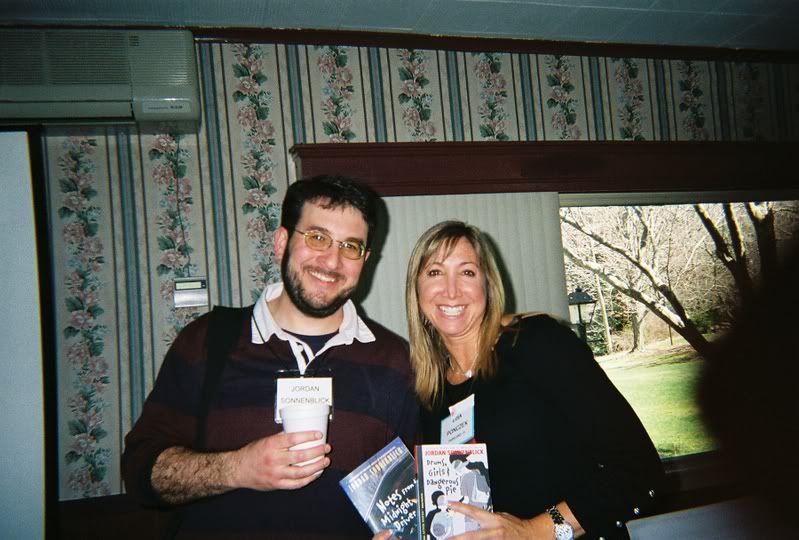 Much better photo of Jordan Sonnenblick.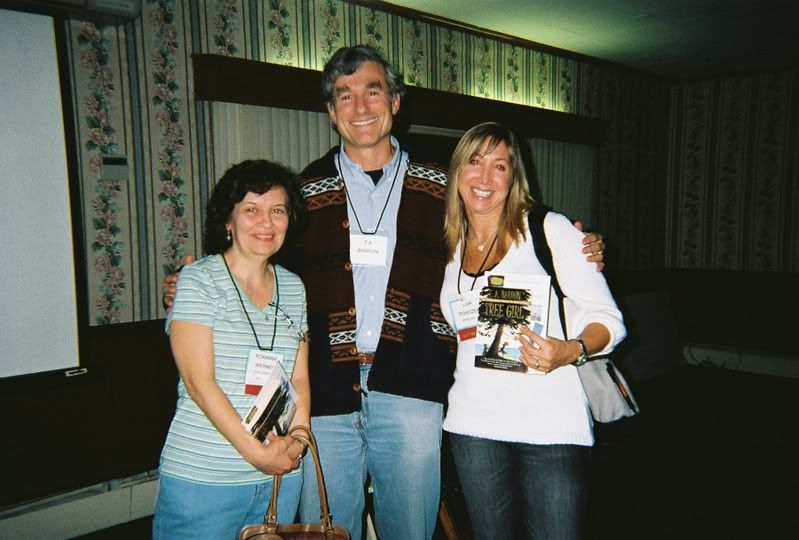 Roxanne and I with T.A. Barron.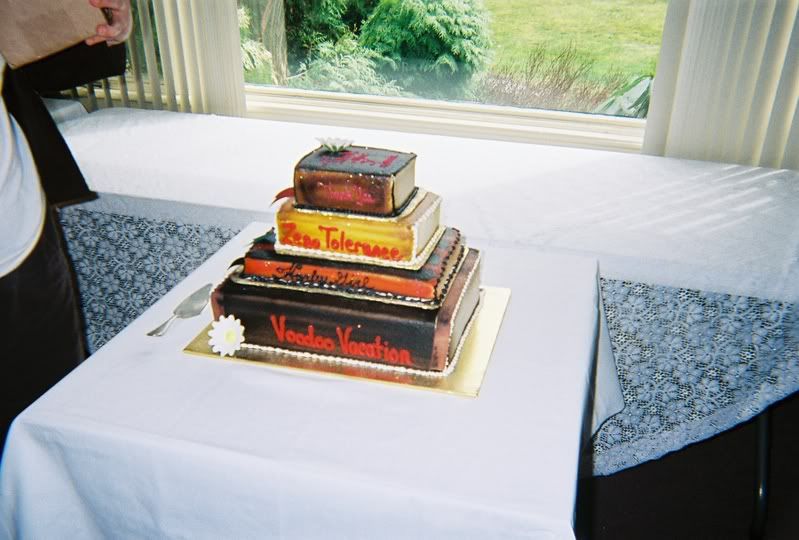 The cake for SCBWI Eastern PA chapter's fearless leader, Laurie. It was gorgeous and delicious.
Thanks to Lois at the front desk for picking up a disposable camera for me when I realized I forgot to pack my digital. :-)
It's been almost three weeks since I attended the Poconos Writer's Retreat and I still haven't posted a blog or photos. Not without good reason though. I banished myself from any blogging until I finished my ICL course. I am happy to say that I sent out my final assignment yesterday. There is a chance It could come back from my instructor with a revision request and then technically I wouldn't be done. For now though... Im done! :-)
Here is a photo of me and my online- now in person too :-) - writing buddy and friend, Roxanne, on our forest hike.
I have more pictures thanks to Lois at the Sterling Inn. I forgot to pack my digital camera and Lois was so nice to pick up a disposable one for me on her way into work. She also lent me a sweatshirt since I had left my jacket on the airplane, probably never to be seen again.
I'll post more pics and blurbs about the amazing Poconos retreat soon.
Happy Tax Day everyone. At least I get my husband back. (I'm still debating if that's a good or bad thing, LOL) He's a CPA.
To my delight the cool air followed me home from the Poconos. Aside from immensely enjoying the wonderful workshops and author talks, I was thrilled to escape the Florida heat and experience a few of the signs of early spring. Lady bugs were out and about, and even swarming some areas of the rustic bed and breakfast. Tiny yellow violets were beginning to blossom and soft green ground cover was just starting to spread. During a forest hike to a cascading waterfall, woodpeckers loudly pecked on the still barren trees which - to my surprise - creaked as they swayed in the wind. I don't think I have ever heard a tree creak here in Florida. Palm fronds will swish as they brush against each other but never a creak. Liking cold weather more than hot, (yes, I too wonder why I never left Florida) I was worried I would have major northern withdrawal symptoms, as I do every summer when we come home from Vermont, when I felt the oppressive balmy weather upon my return home. Our weather though has been uncharacteristically cool for mid April. It's in the mid 60's as I write this and the sun is shining. What a nice surprise! I even have the windows open, something I rarely do for fear of lizards, frogs and mosquitoes getting in the house.


I've really been trying to limit my time on all the social networking sites so that I spend more time working on my writing projects. I think my first picture book manuscript will be ready in the next few weeks. One more round of revisions should do it. (I think, LOL)

My MG novel is moving along steadily and I should be finished with the ICL couse in less than 2 weeks. Yay!!!!! I would have been done already but I decided to put most of my writing aside last week while the kids were on Spring Break.

I only had two home for break since my oldest went on a college tour of the Northeast Ivy League schools. First off I can't believe he wil be leaving for college in two years. Second, I can't get over that he has the grades to be looking at schools such as those. I was a smart kid/teen but didn't have even close to the work ethic he does when It comes to school. I still think, or hope for sake of finances, he'll choose to be a Gator for undergrad but Lehigh, U Penn and Princeton are looking good for grad school. I sure hope he gets scholarships!!!!
I spent a lot of time at the beach with my other two chitlins and friends. It has been so hot it already feels like summer. The afternoon storms are rolling in too. Loud ones with lots of thunder and lightning! I took the kids to the Bodies exhibit in Ft. Lauderdale. That was sooooo interesting. My father , who is a retired pathologist, came along as a private tour guide. I thought I might get skeeved out by the bodies and specimens but they didn't seem real even though they were. It's absolutely incredible how everything is preserved and presented. Skeletal systems were separated from vascular and muscular systems. Even my dad wasn't sure how they could separate everything with such precision. I just wonder if the people who donated their bodies to science ever imagined this to be how they would spend eternity. Morbid thought, but I just can't help but wonder. Even though it is a bit creepy, I hightly recommend seeing this exhibit if it ever comes your way.

I started reading Twilight, by Stephenie Meyer, at my 13 year old daughter's recommendation. I am totally captivated by this book. I'm glad there are two sequels since I'm flying through this one.

With the kids finally back in school today I have lots of work to catch up on. It feels good to get back on a regular writing schedule, even if only for three days! LOL
I can't believe I'm going to the Poconos retreat in just three days. I am looking forward to a wonderful weekend of writing, expanding my knowledge of the children's writing and publishing industry, but most of all meeting other writers.
Current Location:

home office

Current Mood:

cheerful

Current Music:

Michelle Branch

Anyway, after megadoses of vitamins and airborne gummi lozenges, ( I love those airborne products) I think I'm getting my groove back. Better to be a funky diva than in a funk. :-)

I've been working on revisions to my PB and am happy to have cut it down to 780 words. I had already sent it off to my Poconos retreat critiqueathon group but couldn't resist woriking on it a bit more. The retreat isn't until mid April. I re-sent my new version and hope they don't think I'm a pain. It was only minor changes. I guess they'll let me know if the newbie is making a major faux pas. I promise to leave it alone now and work on my MG novel revisions. Revisions os the first three chapters are due to my ICL instructor by mid April as well so the deadline will give me that kick in the but I always need.

Okay, off to pop another airborne lozenge and get some work done.
I've been in such a funk the last few days but I think I'm coming out of it now. The kids have been sick and I've been feeling a little lack luster myself. Can a person feel lack luster? I wonder if there is a lack luster emoticon. Hmmm?
Current Mood:

lack-luster ;-)


No, I did not break my toe while in the Poconos. I haven't even been there yet. I just liked how it rhymed. The two events are totally unrelated.

First, On the writing front -

I'm going to the Poconos retreat in April!!!!!! I don't know if I'm more excited about the conference or just the fact I'll get a break from mommyhood for the weekend. Really, I'm so happy to be attending this conference. It'sounds fantastic. What's really cool is that I'm rooming with a member of my online critique group who I have known for two years but never met in person. I hope we still like each other after being roomates.

I significantly revised one of my PB manuscripts by cutting over 400 words. (Yes, It started out ridiculously long!) I even changed the title. I hope to start sending it out after running it though my critique group and tweaking it a bit more.

I'm almost done with the ICL couse! I just need to revise chapter 3 of my MG novel and the first three chapters will be off to my instructor. I can hear Pomp and Circumstance playing already.

I entered three poems into the Children's Writer contest. Even if they don't win, or even place, I really liked them.

I'm still chugging along with my local monthly columns. I can't believe I've been writing them for 5 years now! I hope people are still reading them! LOL

Okay, now to the broken toe-

I didnt break my toe, my 13 yo daughter did- four days before her first dance competition of this season! This is the second time she has done this right before the start of a competition season. (She is a graceful dancer but clumsy walker! ) Three years ago she did the same thing. This time we taped it up and she danced anyway in the first two competitions. After spending way too much money on her costumes and choreography fees I wasn't about to keep her from dancing half the season. Since her feet are nearly done growing the doctor said she could dance if she could stand the pain. Thank goodness for Ibuprofen! I took my first dose of Xanex since I was a nervous wreck watching her perform turns, leaps and those awful toe drops and rises on her broken toe. If you don't know what they are just imagine standing up or sitting down from the knuckles of your toes. It looks painful even with all bones intact. She has been a trooper these last few weeks and even scored well! Kids are so resilient. Her toe is healing nicely and should be all better by the next competition.
I kind of liked the Xanex, Maybe I'll take it again anyway! LOL
Wow, I disappeared there for a little while but now I'm back. I've been trying to spend most of my writing time writing publishable material instead of blogging. Now I'll reward myself with a little blog time.
Current Mood:

relieved
I barely made the deadline for the Highlights Fiction Contest. Maybe I should have started working on the story sooner than four days before the deadline of January 31st. Things were going well until the evening of the 30th whan I read my story and decided it sucked. Big time! I reworked the whole thing on the 31st, even got a couple quick critiques from some wonderful wrtiers in my group, and sent that baby out an hour before the post office closed.. It was sooooo much better than the original version. Next year I should just wait till the last day to do the whole thing. I'm better under pressure.
Good luck to everyone who entered and thanks to all my critique group buddies for putting up with me this week.
Current Location:

office

Current Mood:

content
I aleady posted a few pictures from the conference in a previous blog but ...
Since
jodyfeldman
is a little delayed in uploading her photos from the SCBWI Florida conference and
debbierfischer
forgot to pack a camera I thought I would post a photo of the two of them together with their ARCs. (Jody's is behind the photo of her new cover art.)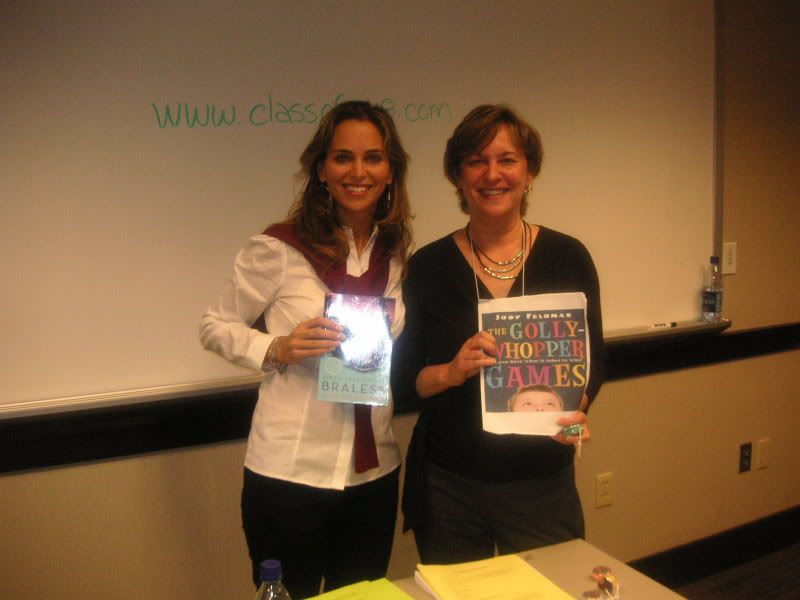 Nice cover art girls!
Feel free to lift any photos you want. :-)
I just got back from my critique group meeting. Did I tell you how much I love my critique group? We started in July and already have such a groove going on. Hopefully we'll stick together and share each others sucesses for a long time to come.
Current Mood:

weird