So here it is, a brief recap of my first Poconos retreat...
First of all I was so happy to be out of South Florida and in the mountains. The grounds were beautiful and reminded me of where we spend part of the summer in Vermont.
One of my favorite things was meeting people I had only previously known online. After two years of being writing group members and ICL students together, I finally met my friend Roxanne. We got along great as roomies. It was fun meeting so many blueboarders too. We all drew blue borders around our nametags and had special stickers thanks to Gail K.
I met Jeanne who had been at the New York conference where she met my friend and writing buddy Karen. Karen wanted Jeanne and I to be sure to meet in the Poconos. We did and even took a photo waving to Karen.
I enjoyed doing critiques for and recieved very helpful critiques from my super critiqueathon group. The workshops I attended with editors from Simon & Schuster and Delacorte Press were interesting and informative, discussing character development, query letters and story seeds.
The author talks were very entertaining and inspiring. Jordan Sonnenblick could be a stand up comic if the whole successful author thing happens to dry up. Not likely though with his talent.
I came home with lots of books. I have such a weakness for signed works of fiction. Thank goodness I left some extra space in my suitcase.
Everyone was so friendly and welcoming. I hope to be able to attend the 2009 retreat. A big thank you to the SCBWI Eastern PA chapter for putting on such a fabulous conference.
Here are a few photos to bore you with...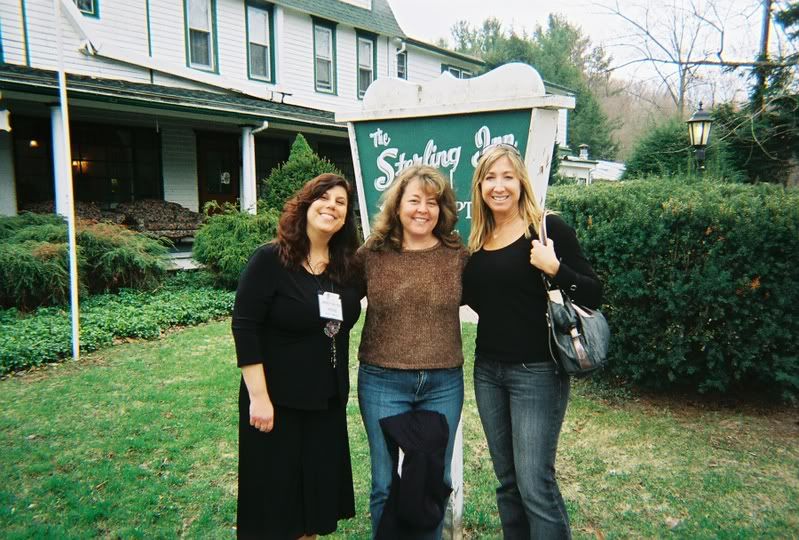 mindyalyse
Leslie (new PB author extraordinaire) and me in front of the Sterling Inn.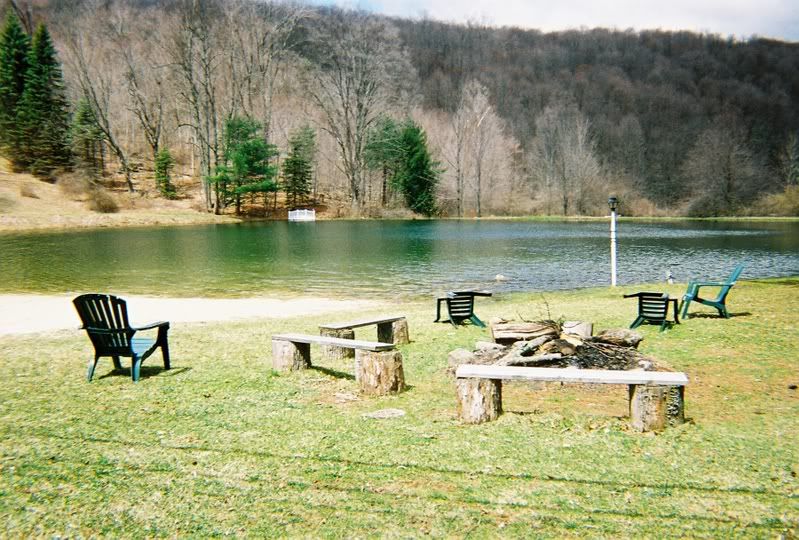 Beautiful grounds.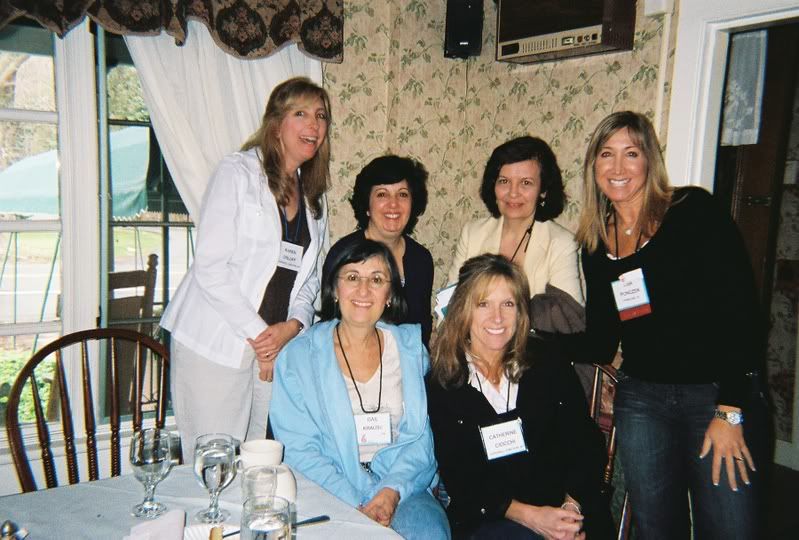 My friend Roxanne (to my right) with her in person Poughkeepsie writing group.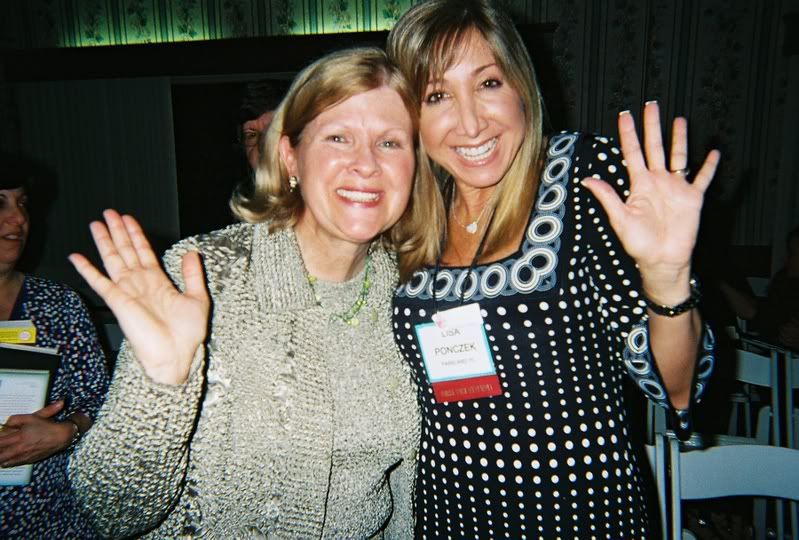 Me and Jeanne waving to Karen.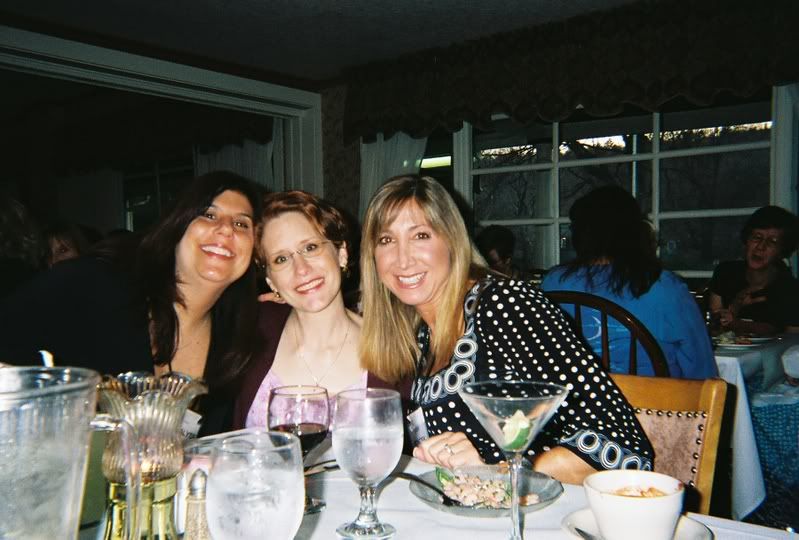 Me and Mindy with Mary Ann
that_ghost_girl
who's stories of growing up with a ghost in her home mesmerized me!
Roxanne and I on our hike.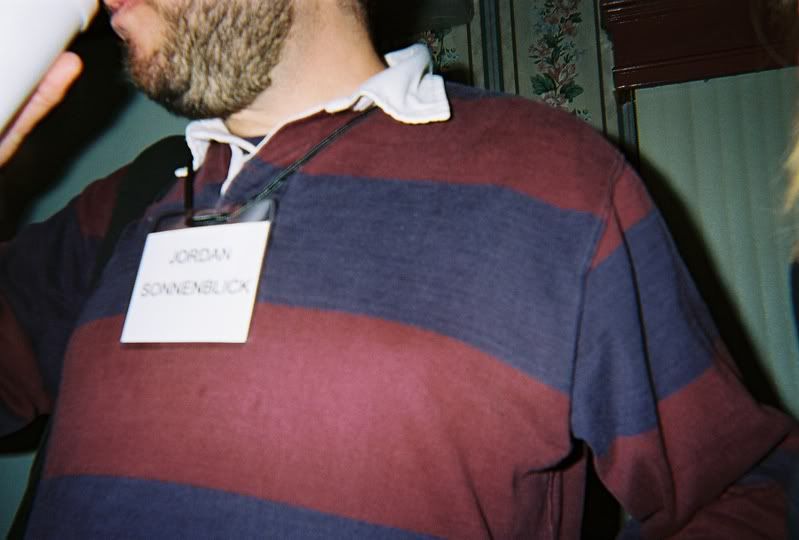 Oops the camera went off by accident but I got a shot of J. S's nametag. :-)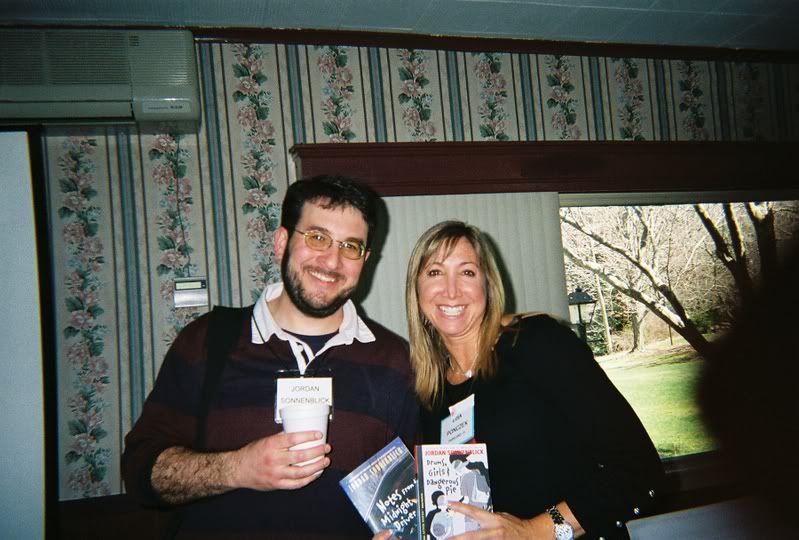 Much better photo of Jordan Sonnenblick.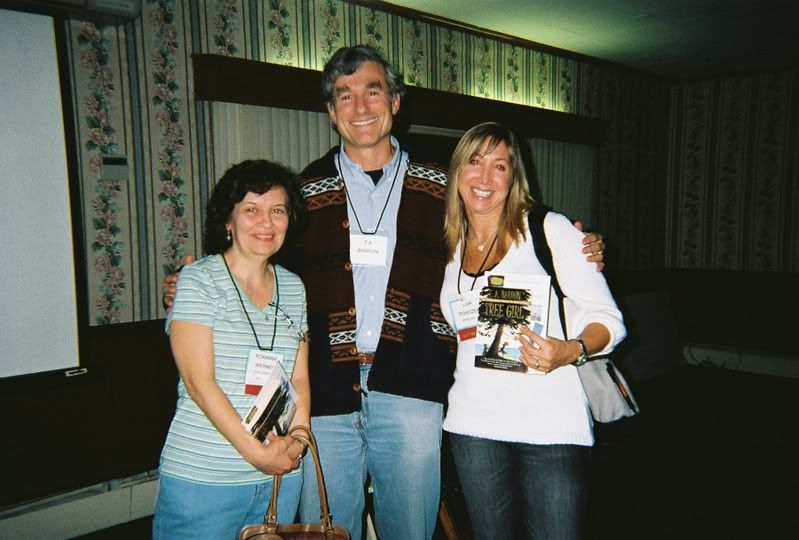 Roxanne and I with T.A. Barron.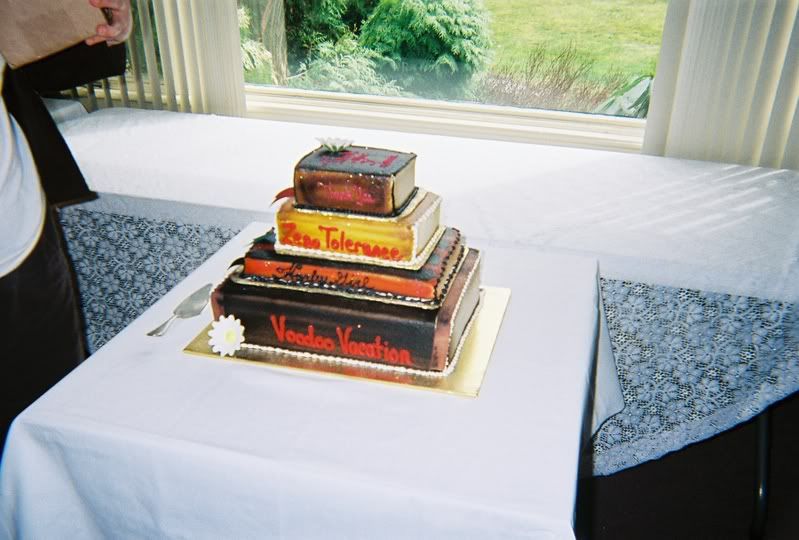 The cake for SCBWI Eastern PA chapter's fearless leader, Laurie. It was gorgeous and delicious.
Thanks to Lois at the front desk for picking up a disposable camera for me when I realized I forgot to pack my digital. :-)
It's been almost three weeks since I attended the Poconos Writer's Retreat and I still haven't posted a blog or photos. Not without good reason though. I banished myself from any blogging until I finished my ICL course. I am happy to say that I sent out my final assignment yesterday. There is a chance It could come back from my instructor with a revision request and then technically I wouldn't be done. For now though... Im done! :-)