No not that.... My first SCBWI conference.

What an incredible experience. I came home walking on air.

First, I can't say enough about how nice everyone is. I had visons of all the published authors being ushered in and out of workshops by security with all of us unpublished writers straining to get a glance or maybe even a brush against their arm as they're whisked away to some coveted published authors lounge. In reality, they were all so genuine and downright cool! We were all just one big happy bunch of writers and authors. It's mind boggling to be in a situation where everyone sincerely wants everyone else to succeed. Maybe I'm being a bit delusional but it's truly how I felt this weekend.

I was like a super absorbent sponge soaking in all the lecture and workshop info on plot, characterization, building tension, adding humor, revising, finding and applying for grants, the publicaton process...okay, my head is spinning again. I'll just say my writers soul was brimming from it all.

The highlight of my weekend was my critique. Being a huge self doubter -I really need to work on that personality flaw- I worked myself into a neurotic mess right before my scheduled time. The critiques were running 15 minutes late as well so I had extra time to agonize over everything I had done wrong in my submission. The mantra, "What am I doing here, I'm so out of my league" kept running through my head. When I entered the critique room and headed toward (Joyce, if you read this, see no "s" , I learn fast. :-D) Joyce, who was seated and smiling at me, I felt like I was walking through a hazy gelatinous substance while trying to smile back and seem cool, calm and collected. I managed to make it to the chair awaiting me without tripping or dropping something. Joyce's critique was very helpful and not nearly as harsh as I had built myself up to expect. Here's the clincher though. After we finished going through my submission Joyce said to me, "I want you to keep in touch because I think you are fabulous and going places." I just about fell out of my chair. I don't know how fabulous she thought I was a minute later because my brain exploded, (yes, I know lovely image but that's what it felt like) and from that point on I became either a bumbling or possibly speechless idiot. I'm not sure which one because I have no recollection of anything I said after that. My next memory is finding two of my critique group members waiting outside the door and trying to say something coherent to them. Outside observers would have thought I was on some happy drug for the next twenty four hours. It was a good thing the party was that night, and party we did. Authors, writers and illustrators make for a pretty wild crew.

To top off the weekend I won a beautiful handmade sailor doll, crafted by the talented author/illustrator Kimberly Lynn, in a raffle.
http://www.kimberlylynndolls.com/
My name was pulled from the box literally 2 seconds after I leaned over to my friend and told her how I never win anything. Fate made me look like a liar.

I can't wait to attend another conference although I can't imagine an experience that could top this one. There's nothing like the first time.

Happy writing, plotting, characterizing, revising, grant finding........

Lisa

Oh, here are a few pics-



Me and Sherry with Sid Fleischman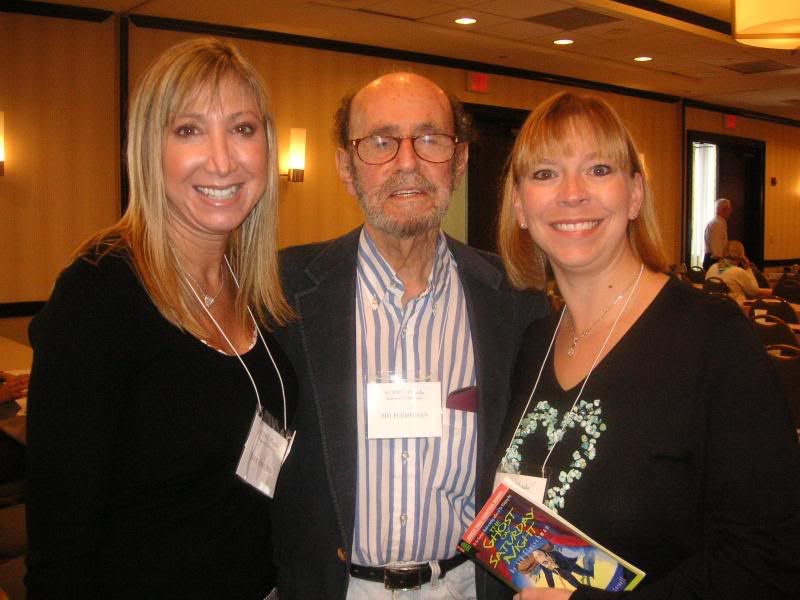 Three future debut authors, Mindy
mindyalyse
, Sherry and me.
Writers need endurance!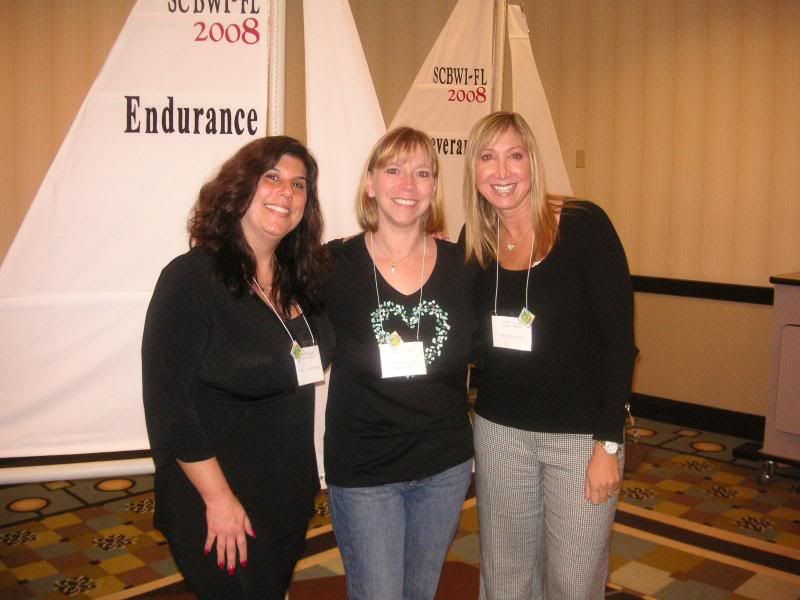 Me and Sherry with Y2K8 debut author of Braless in Wonderland and
Swimming With Sharks, Debbie Reed Fischer.
debbierfischer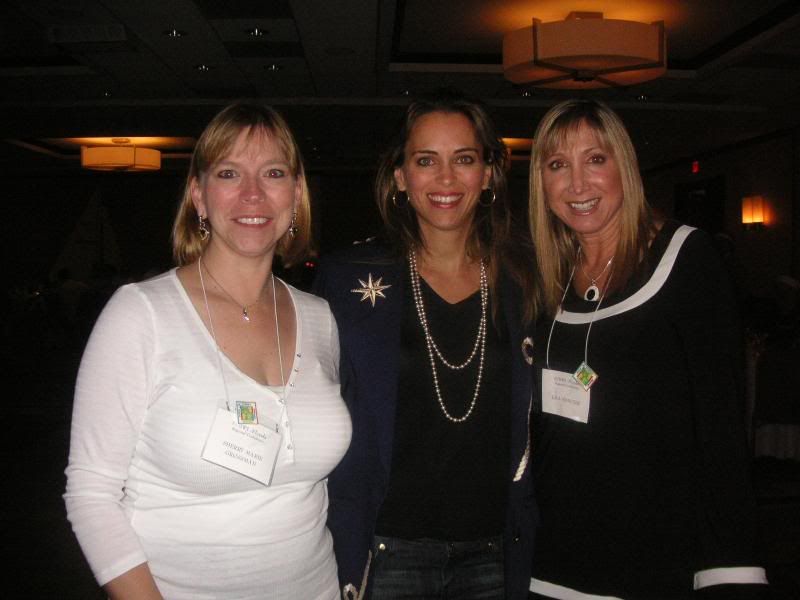 Me and my roomy, Karen, two future debut authors!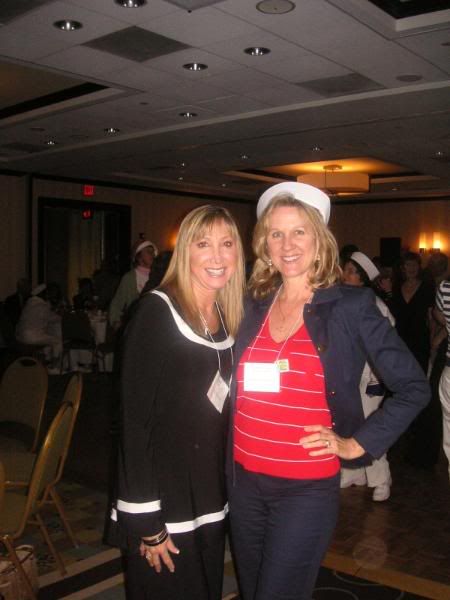 Illustrator extraordinaire- David Diaz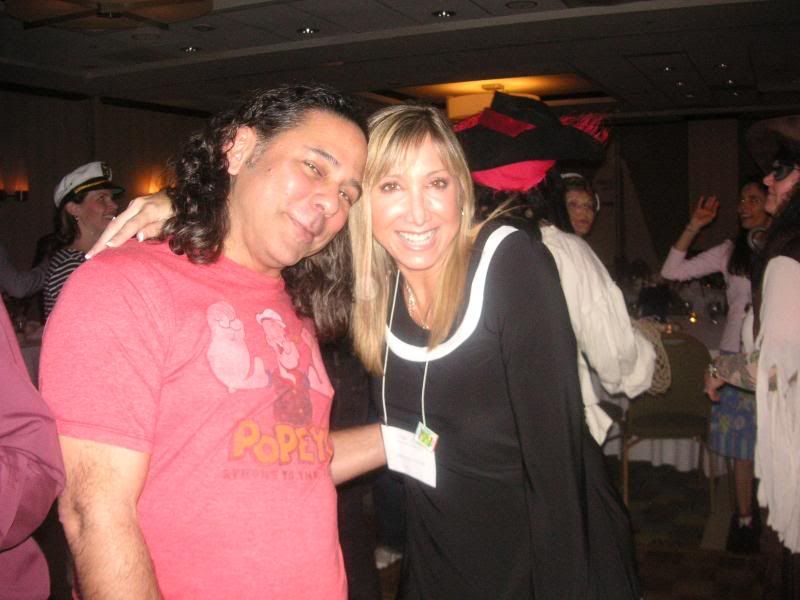 Three party pirates. How great do they look?
Joyce!
Our SCBWI dolls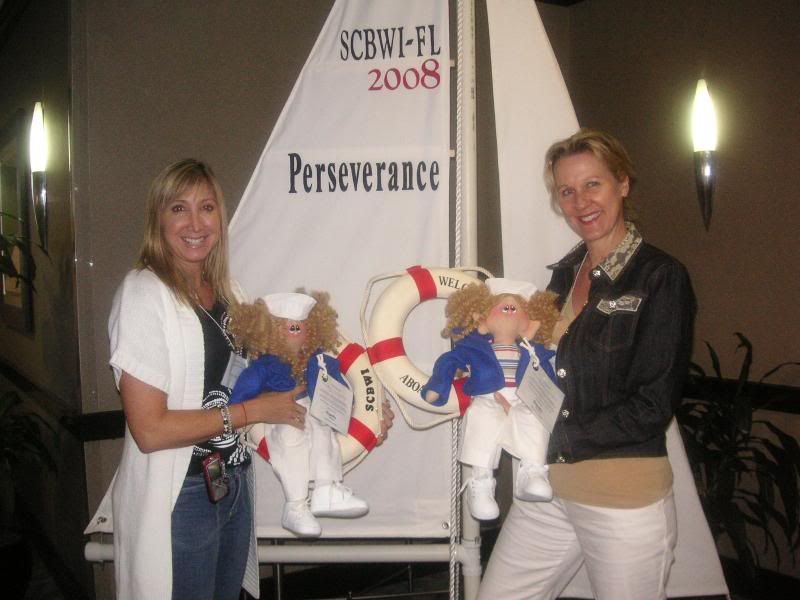 I just finished Bird By Bird by Anne Lamott and highly recommend it. Next up in the pile as far as books on writing go is Noah Lukeman's The First Five Pages.

On the non writing front, I happened to turn on the TV this morning to see Kelly Ripa co hosting Live With Regis and Kelly with her husband Mark Consuelo (sp?) filling in for Regis. They are just too cute together. Their chemistry is awesome and they play off of each other with perfect timing and candidness. I wonder if they are that great together off camera. Either way, if Regis ever retires I think Mark should step right in.

Okay, time to write. I just need to freshen up my coffee and get off the blogging sites. Today I hope to make some good progress on assignment 10 A.

Have a great day everyone.

Lisa
I was already excited about attending my first SCBWI conference next weekend but now I'm even more excited. I recieved an email letting me know Joyce Sweeney will be critiquing my first chapter of Broken Stones. Yippee!!!! She was my first choice out of all the critiquers and I can't believe I actually got her. I just ordered two of her books and had them overnighted. I have been on such a book buying frenzy my TBR pile is getting way out of control. I think it's time for more book shelves.
Current Location:

my desk

Current Mood:

energetic
I can't believe it's 2008! The kids all went back to school today and I am ready for a new year of growth as a writer. Submitting will be the general theme of my goals for this year. To make it official I'm posting my writing goals. Something about putting them down in writing, especially in a blog, makes them seem more real with added pressure to stick to them.
Here they are, my writing goals for 2008:
1. Improve my typing skills! LOL
2. Treat my children's writing as a job and keep to a structured
writing schedule.
3. Create a mock up and submit my idea for a kids and teen section
for the magazine I write for.
4. Complete the ICL course
5. revise and submit my 3 PB manuscripts.
6. Revise and submit my assignmnent four NF article
7. Revise and submit my NF writing article
8. Enter 2 to 3 children's writing contests
9. revise and submit some of my poetry for children.
10. revise and submit my two craft articles.
11. revise and possibly submit my MG novel (might run into 2009, just want to be realistic here :-))
12. Participate and succeed in NaNoWriMo 2008. (I can't wait!)
13. Blog regularly even if only a short blurb. :- D
14. Read! ( I already do lots of that though.)
15. Attend 2 writing conferences.
Okay, that should keep me busy, at least for now.
Happy New Year!
I know I should let my manuscript sit for a while, especially since it was written in spurts of mad writing frenzies during NaNoWriMo, but I really really really wanted to get the first chapter ready to submit for a critique at next month's SCBWI-Florida conference in Miami. Being a first time novelist I learned something that surprised me. Revisions are freaking hard! Harder than writing the first draft. Now that my internal editor lady has been let back in after her month long banishment, she is super pissed off and worse than ever. I may have to hire a hit man to knock her off for me. I am happy to say that despite her stalwart attempts to sabotage my confidence and with a December 15th deadline looming, I just overnighted my first chapter. I think it cleaned up pretty well. I also registered for the all day writers intensive workshop and plan on bringing a first page of one of my picture books for a chance at a first page critique. It might be my first conference but I'm going all out!

Current Location:

Home office

Current Mood:

determined

Current Music:

Rascal Flatts
My first experience as a NaNoWriMo participant has come to an end. At the close of the 29th day I uploaded my MG manuscript, titled Broken Stones for now, into a little word count thing-a-ma-jiggy window and got one of these-
I also got one of these-
YAY ME!
Okay. Great. When someone puts a stopwatch to my head and says write, I write. The true test will be to see if I keep up a steady pace without the word count widgets or the weekly pep talks, (which were really great by the way, I loved Sara Gruen's) and all the writing buddies cheering each other on. Oh yeah, I can't forget word wars. These 10 to 15 minute writing frenzies with other NaNoers helped me produce some of my finest garbage which will most likely be deleted from the book
The true test of this newfound novel writing ability will be if I can keep up a steady writing pace while living in reality. I'm not talking about putting out 50K+ words every month but 50K+ in two to three, maybe four months tops, seems very doable and reasonable. Yes, 50K+ words while also keeping up with the laundry, making dinner for my family, getting to the grocery store, bank , doctor appointments, VET and all those other mundane places to be and errands to run. This will be the true test..
In honor of my self made challenge I am proclaiming LiNoWriLi. Lisa's Novel Writing Life. This is only for me, or any other writers named Lisa. The writing does not have to be a novel. It can include, PB's, chapter books, short stories and poems with the intention of submitting them to a contest or magazine. I haven't yet decided if time spent revising will be included but I think I'm leaning towrads a yes for that question. As long as I am focusing on writing and seriously pursuing my writing goals then I will be fullfilling the expectations of LiNoWriLi.
There will not be any winner certificates awarded at the end but possibly a few nice contracts along the way and some inspring words to leave behind, hopefully leaving a lasting imprint on others.
LiNoWriLi begins today and continues for an indefinite amount of time.
PS. I do plan on participating in NaNoWriMo again as part of LiNoWriLi. It was so much Fun!!!!
Happy garbage free writing to all! :-)
Current Location:

home office

Current Mood:

contemplative

OK everyone, on your mark...get set...WRITE!

Hey can I count this blog in my word count? :-D
I just finished cleaning up the house. That's the last time I let more than one of my kids host a party at the same time. Thank goodness the 16 year olds went elsewhere tonight. I think the last of the trick or treaters have come and gone. I'm exhausted but excited. In one hour NaNoWriMO will begin and I will try my hand at fast draft noveling for the first time. I'm happy with the amount of planning I have done. Not too much but not too little. Now I'm re-reading some parts of Chris Baty's book, No Plot No Problem and waiting for the starting bell to sound off in my head. I won't get much done after the stroke of midnight but it will be a start. My biggest problem will hopefully be trying to keep my hands on the keyboard and out of the Halloween candy! Who's idea was it to do this right after Halloween?
Current Location:

my office

Current Mood:

tired

Current Music:

the news
I can't believe there are only 3 days until the month of madness as I like to call it. I stumbled upon NaNoWriMo last year at the end of October and wasn't quite ready to take on the challenge. I promised myself that this year there would be no excuses. I would be a 2007 NanoWriMo participant. Now I'm telling myself I will be a 2007 NaNoWriMo winner. I'm not going to spend the next 3 days dwelling on my MG novel to be, or talking incessantly to my characters. No. My method to beating this madness is getting a groove on. Yes, I write to music and I love to dance but what I need is a writing groove. My fingers will tap out a beat over the keys each day until I reach that coveted goal of 50,000 words, or maybe more!
I've cleaned out the fridge, stocked up on groceries, washed the car, caught up on laundry and other household chores. The dogs have even been groomed. I'm trying to eliminate any "outs" for myself in case I should start feeling a cluck coming on. There will be NO chickening out this time. I can do this. If I stop writing, what will I have to do? Shop? I don't really want to buy anything until I lose those pesky 10 punds anyway. That's it, I'll workout more. Nope, I've scheduled all working out for early morning before getting the kids off to school. I am determined to have a writing groove of at least 5 hours a day. Of course some of this time will involve my current writing, columns, volunteer publicity work for the schools and my coursework but the rest is for NaNo. 50,000 words seems like such a daunting task but it's actually only 1667 words a day. That's a piece of cake. Right? I mean, write? I organized my office and took care of all pending paperwork. I hung a huge bulletin board on the wall to post my color coded index cards with character and plot notes. My list of writing buddies is steadily growing over on the NaNoWriMo site and I can't wait to cheer them all on. I am more than ready to start regurgitating on my keyboard. I do hope that what I produce is of better quality than vomit though. Even if it's not, there's always rewrites in December. :-D
Ok, I'm feeling a beat and my fingers are starting to pulse. Is it November 1st yet?

Happy writing to all!

Lisa


Current Location:

my office

Current Mood:

anxious

Current Music:

Let's Groove tonight, By Earth Wind and Fire
http://www.freewebs.com/themuseonlinewritersconference/
for the first time. What a unique way to hold a conference. There were chats and forums on character development, dialogue, world building, fiction and non fiction writing, editing and revising, writing for kids and teens, publishing, ezines and ebooks and so much more. The site was easy to get around and there was even a virtual cafeteria to grab a bite to eat or a cup of coffee with fellow writers. It works since writers have such large imaginations. One of my favorite aspects of an online conference was that if chats of interest to me were going on at the same time, I could open two chat windows and virtually be in two places at one time. This would be of great use in the real world. I'm definitely attending again next year and highly recommend it. At the least it's a great motivator and wonderful way to network with other writers all from the comfort of your own home or wherever your laptop might take you.
I'm happy to say I am on assignment 10a in the ICL course.
http://www.institutechildrenslit.com/index.htm
This assignment focuses on a book instead of magazine articles. I'm especially pleased about the timing since NaNoWriMo is next month. I hope to have the first draft of my MG novel banged out by the end of next month. Then I 'll have to start NaNoReMo. Hey, that would be a homonym, cool! Ok, National Novel Revising Month might need more than one month to itself. I'll just call it NaNoReMos.
Hope everyone is writing veraciously. If you need some highly caffienated coffee but can't tear yourself away from the computer because your on such a writing roll, (of course you wouldn't be reading this then but oh well) have a virtual cup on me. Can you smell it? Careful, it's really hot but it's also spill proof!
Happy writing,
Lisa
Last week I attended the Muse Online Writers Conference


On the writing front, I'm putting the final touches on my 9th assignment for the ICL course and am very excited to be nearing the final assignment. I will hopefully, no I WILL begin my MG novel for assignment 10. I'm keeping up with my magazine columns fortunately and also doing the final revisions for a couple NF articles. I'll have those in the mail shortly. I'm all signed up for the muse it up online writers conference and the information packets are starting to roll in. This is my first year attending so if any of you out there have participated in it before I'd love to hear about your experience with it.
My SCBWI critique group is going well becoming more consistent with it's membership. Having an in person group is so helpful and fun! The online group has been quiet lately but hopefully everyone will get going again over there.

On the home front, my oldest son turned sixteen and will be getting his license on Tuesday. Yikes! I'm going to have to invest in more hair coloring. The grey hairs are sure to start growing in now. We had a very exciting weekend in Chicago cheering on my husbands Indy racing client Dario Franchitti. He won the Indy championship and I got to hang with Ashley and Wynona Judd and Gene Simmons too!

........................................Ok, I'm back...................................not that anyone would know I was actually gone. LOL

My neighbor has a rainbow of colors painted on her house and called me out to come help her choose. Everytime I think she's made a decision, a whole new palette of color choices goes up. I think we might have a winner this time though. "Keystone Grey" it's called even though it's a dark taupe color. Go figure. As I was walking back into my house my son called from the high school to pick him and a "couple" of friends up. When I arrived, a "couple" turned out to be him and 8 friends! a month ago this wouldn't have been a problem. For 15 years I drove a mini van or SUV which I jokingly referred to as my "mommy mobiles". With oldest child becoming a driver soon we decided to get a 3rd car. Being a 3 car family I decided I did not need a mommy mobile anymore and since my lease was up I got myself a cute litte 4 seater Vovlvo convertible. I figured after 15 years I had done my time. Luckily I drove the new 3rd car, a 4 door Nissan Altima, to pick them up but still, squeezing 9 teenagers and myself in was not something I wanted to do. Somehow those kids can talk me into anything! Before I could say "no siree Bob" (I love saying that...try it it's fun!) I was packed into the car with my son and 8 friends driving to a nearby restaurant so they could grab a bite to eat. Unloading them certainly looked like a scene from a circus. I told them to call a parent with an SUV to pick them up. (LOL) I can't wait for my son to get his license Tuesday and I'd better not catch him overloading the car with kids! The kids are great fodder for book material though. During the short drive I ended up learning that in 4th grade one boy asked a certain girl out after a friend paid him 50 cents. He said he wanted the money to buy a glow stick.! Hmmm.... I'll have to weave that into my MG!

That's all for now.

Happy writing!
Well, I have totally been avoiding my blog and I thought it was time to get a groove back. The kids are settled into the new school year so no more excuses.
So here I am popping in.
The end of my peaceful bliss is almost here. (translation-I'll be popping in even less!) Tomorrow morning my youngest son and daughter return from camp along with four gigantic duffles full of reeking socks and other clothing. Guess I know what I'll be doing all weekend. Actually I'm taking a laundry break to take my daughter to a salsa class with Heidi and Benji from last years season of So You Think You Can Dance. That will be a riot! Local dancer, Kameron Bink (love that name!) who is partnered with Benji's sister, Lacey, this year, is still in the running for this seasons SYTYCD show. I'm afraid if he is in the bottom 3 tonight this could be his end if he doesn't show up with an amazing solo! I hope he stays on. It's fun rooting for someone you actually know. If he's done, at least he can come home and possibly do some choreography work for my daughter. Always a bright side.

On the writing front, It's been a year since I started this goal of writing for kids and teens and I have learned an incredible amount of information! I'm starting assignment 9 for my ICL course. I've chartered the SCBWI North Broward critique group and we have 8 members already! Tonight is only our second meeting. It's a great mix of writers as well. I'm taking another workshop with Gloria Rothstein and..... I have two , not one but TWO completed PB manuscripts! I need to do some revisions and then hand them off to my critique groups for slash and trash sessions. LOL
It won't be long now till I'm sending my babies off into the world. It's time to start racking up those rejection slips! Then I'll feel like a real writer.
I'm still doing the local magazine thing. Funny how I can churn those articles out so easily now.

Just finished Stephen King's book On Writing. I highly recommend it. Now what to read, what to read....?
That's it. Popping out now.
Happy writing to all!
I just can't stay consistent with this blogging thing. I've come to the realization that I am a popper inner.
Current Mood:

bouncy